Throughout its history, the Internet has seen a lot of change. What started off as a simple collection of servers hosting barebones pages with an image or two, mostly containing text and links, has turned into a deeply connected yet somehow very centralized set of applications that bring us together.
Of course, the Internet wouldn't exist if it was not profitable, so the leader of Web monetization was pulled in: the humble banner ad. The very first banner ad was purchased in 1994 by AT&T and was very to the point:

It was a massive success. Almost of half of the people who saw it clicked it! You can't say that about ads nowadays, where about 1 in 1,000 tend to click on ads. As soon as this ad went live, others took up the same idea. In fact, this ad format (albeit slightly larger, to fit with our modern screens) is still what drives the majority of the Internet's profitability today, even 30 years later.
The Bubble
Once the world recovered from the dot-com bubble bursting, the Internet once again took upon itself a path of near unstoppable growth. Of course, the Internet has seen changes. The iPhone sparked the world of the mobile Internet and apps, highly increasing the centralization of the Internet. What used to be a large collection of disparate websites has been clobbered into single megasites that do everything. In 2007, the top 50% of internet traffic came from many thousands of Web sites, whereas nowadays, the top 50% of traffic consists of Netflix, YouTube, Disney, TikTok, Amazon and Facebook, with some random large downloads in there like PlayStation and Xbox downloads (because of how ridiculously large games have become). This goes hand-in-hand with the nature of mobile phones, using apps you get in a centralized store as opposed to free-floating websites.
In addition, the Internet has seen many changes in how it addresses ads and monetization. The early Internet just used banner ads, but for a short while, pop-ups got dominance, simply for being higher-impact. Of course, pop-ups were not only obnoxious, but often malicious too, so they were relatively quickly destroyed — first by users using pop-up blockers, then by browser developers themselves. YouTube instead sparked the concept of video ads, a far more valuable but also more annoying form of ad.
But, monetization itself has changed, too. While ads wouldn't randomly go away, the early Internet's sites had a starkly different approach to how they should exist in the larger Internet. Mainly "Web 2.0" was of interest, the concept of making your site really easy to connect other sites to. For example, your own site could display things people are saying on Twitter. In fact, Web 2.0 was Twitter's claim to fame! Twitter was originally meant to be usable through SMS (hence the 140 character limit), but instead, its ability to be used completely programmatically became its selling point. Up until now, you could see many places show live Twitter feeds, and helpful bots write to Twitter in the same way. For a long time, the existence of an API (the way programmers can connect software together) for a site was almost a given.
In more recent years, however, that has changed. As centralization kicks in, once you are a major player in the market, there is simply no need to bother integrating anymore. Rather, sites want to keep their content to themselves, and ensure you don't see it without also seeing their ads. The prevalence of APIs has gone down massively over the last few years.
The Squeeze
Indeed, as time went along, the centralization of the Internet and its obsession with constant growth has created a painful duality. On one hand, information on the Internet wants to be free. People want to be able to visit sites at any time, without payment, and do their thing. Website owners want their sites to be useful, to fit the purposes they are supposed to serve. Developers like the concept of APIs, making cool new projects possible.
But investors want to see money. I talk a bit about the problems with this growth in a previous blogpost titled "Optimizing for time waste". There, I talk about Google, specifically. Google used to be revered as the search engine, always able to show useful results. Yet nowadays, Google is a husk of its former self, only serving spam and ads, begging you to either stay on Google's premises (to see more ads) or to click a bunch of links to sites Google has ads on.
Once the Internet gets centralized, there is nothing other than morals stopping the owners of the large properties from turning on their users and trying to squeeze them for money, instead. Over the last years, this has become harder and harder to uphold, but luckily, the ad business has only been growing. So, as long as the ad business doesn't collapse, and no other strange things happen, we should be OK, right?
...
The Singularity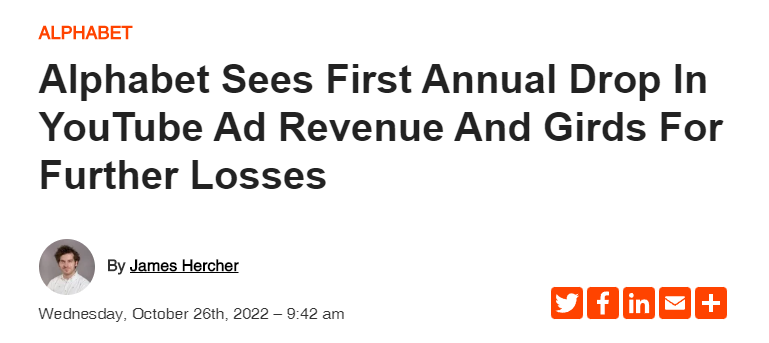 Uh oh.
In an unstable economic climate, one of the first things to tend to get large cuts is advertising. So after multiple years of global problems, the advertising market is finally buckling. Of course, this isn't the first time economic downturn has caused lower advertising spend, but with the current centralization, the effects are a bit more noticeable.
And there's another thing. Generative AI (ChatGPT, Stable Diffusion, etc.) have shown that aggregating a ton of data from the Internet and forming a neural network out of them tends to work pretty well now. This means that a neural network will be able to give you content from webpages, by simply programmatically downloading them once and extracting the text (scraping). This creates a strong competition against those sites, since now you won't be seeing their ads anymore. As sites have grown to be as human-unfriendly as possible, shoving in as many ads and popups and cookie notices and newsletters and paywalls as possible, the moment they get caught up to is here.
ChatGPT has, within a short amount of time, destroyed the premise of most of the monetization of the Internet. Coupling this with bad advertising climates means... our Web as it is now cannot hold.
The Supernova
We're already seeing the effects of this unfold. YouTube is starting to block users from using adblockers, Twitter and Reddit have immediately destroyed their APIs, and Twitter's going even further, destroying their entire site by only allowing you to read 300 Tweets a day, and only if you're logged in (hey, if nobody can access the content, nor can bots, right?). It's a race to survive, trying to ensure your site doesn't become irrelevant.
So what's next? Well... it depends on where generative AI is. Nobody can predict what happens if it keeps growing, but if the growth spurt of AI is just a one-off thing, and doesn't get any orders of magnitude better than it is now, then it simply means the death of any chance of decentralization of the Web. It's already very entertainment and social media-focused, so the large players will simply lock off their content even more. Search engines will be a thing of the past, as the spam they procure has become completely irrelevant. Banner ads as a format will die out and get replaced wholly by subscriptions and video ads.
Is this a bad change? It's hard to say. I hate the concept of losing APIs, seeing DRM, paywalls etc... but at the same time, such a large purge might give the remaining sites more room to create better experiences. Then again, that puts a lot of trust in companies to care about making a good product, as opposed to just caring about the bottom line.
It's scary to see Internet history occur in real time, especially as a relatively large player. In the end, the hope is that the Internet doesn't devolve entirely to a toy. What do you think? Where do you see the Internet in 5 years, considering the quick change we're seeing now?